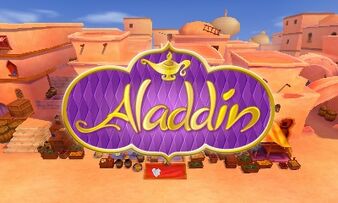 Aladdin's World
is one of the 6 worlds in Disney Magical World. 
Information
Edit
Aladdin's world is split into several sections. The first section upon entering is the Bazaar where the player can purchase some exclusive items from the 2 shopkeepers. Towards the left is the platforms to Aladdin's home, which is also where the Magic Carpet is. The Magic Carpet is the make-shift portal to the dungeon, which takes place in the ancient ruins. Towards the right of the bazaar is the way to the Palace where Aladdin and Jasmine are.
Desert Journey Preparations
Stolen Treasure
Jasmine's Sweet Smell
The Merchant's New Wares
Ancient Manuscript of Beauty
Find the Lamp!
Delicious and Nutritious!
Get the Lamp Back!
Who's the Ultimate Fisher?
Catch the Thieves!
For a Famished Father
Help from Genie
Genie's on a Rampage?!
Disney Characters
Edit
3D Models
Edit
Screenshots
Edit