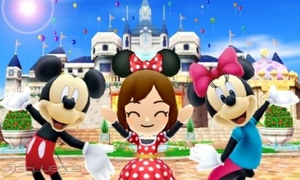 Castleton
is the home world of the game where the players new home is located. It has many shops located through it, as well as portals that lead to other lands.
A shopping center full of many item types. Like outfits, accessories, furniture, tools, and other items. Minnie Mouse will show you a tour of the location and give you a free costume.
Bring in any items you find and Daisy and put them together to whip up a wonderful new outfit piece.
A furniture and tool making shop.
Yen Sid's tower where the player can create wands for their Dungeon adventures
Castle Vaults
Chip and Dale Need a Thing!
Goofy's Missing Keys
The King's Magic Cauldron
Minnie's Missing Dish
Mickey's Request
Sticker Unlockables
Edit
1 Sticker - Unlocks McDuck's
3 Stickers - Unlocks a Small Vegetable Garden
4 Stickers - Unlocks Daisy's Boutique
5 Stickers - Unlocks the West Flower Garden
6 Stickers - Unlocks the Castle entrance
7 stickers - Unlocks Chip and Dale's workshop
10 Stickers - Unlocks the Cafe
13 Stickers - Unlocks The Tower
16 Stickers - Unlocks the Castleton Air Balloon
21 Stickers - Unlocks the Shop of Wonder
60 Stickers- Unlocks the Magic Dungeon
Characters
Edit
Game Exclusive
Edit
3D Models
Edit
Screenshots
Edit