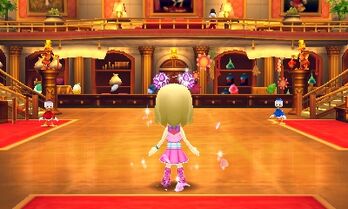 McDuck's
is the first shop the player can open up in
Castleton
. It is a big mall full of goods fitting all categories, like tools, outfits, furniture, and more. There is also a resale shop on the top floor.
It is run by Scrooge McDuck, with assistance from Donald Duck's newphews, Huey, Dewey, Louie. To unlock it the player needs one sticker.
A light colored building with rich, royal red and gold accents. It has many fancy windows with black detailing and plant life in the front.
First Floor
Edit
A rich building resembling a fancy hotel. It has many shades of golden accenting, and many royal red carpets. There are two sets of spiraling stairs that lead to the top floor. On the left is the clothing section, while the right has furniture and the back has some materials for item crafting.
Second Floor
Edit
Catalogue
Edit
| Outfit Name | Price |
| --- | --- |
| Minnie Cute Outfit | Free (if selected during first visit) |
| Mickey __ Outfit | Free (if selected during first visit) |
| Pooh Stylish Jacket | 1200 coins |
| Alice Cute Shirt | 1200 Coins |
| Peter Pan Stylish Jeans | 800 coins |
| Peter Pan Stylish Sneakers | 600 coins |
| Stitch Stylish Sneakers | 600 coins |
| Tink Pumps | 600 coins |
| Mickey Styish sneakers | 600 coins |
Furniture
Edit
| Items | Price |
| --- | --- |
| Scrump Doll | 2400 coins |
| Simple Mini Light | 1500 coins |
| Decorative Plant | 1500 coins |
| Simple Table | 1500 coins |
Materials
Edit
| Items | Price |
| --- | --- |
| Mini Apple | 150 |
| Wheat Fruit | 150 |
| Eggfruit | 150 |
| Sturdy Thread | 150 |
| Aromatic Nut | 150 |
| Cotton Leaves | 150 |
| Flexible Bark | 150 |
| Soft Cloth | 150 |