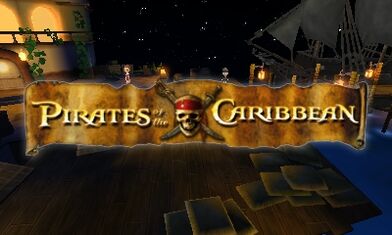 Pirates of the Caribbean World
is one of the 6 worlds in Disney Magical World. Pirates of the Caribbean is the only world only avaliable though DLC
Information
Edit
After purchasing the world though Bella, a ship will appear at the docks in Castleton. After you take the ship, you will arrive in the world. To return to castleton, simply talk to the older man by your ship at the docks. That ship also happens to be your portal to the dungeon. Pirates of the Caribbean World also has 14 episodes to enjoy and the player must have at least 16 or more stickers to acess it even if they already downloaded it.
Testing Your Pirate Mettle
Jack Sparrow's Deal
A Wooden Treasure?
Legendary Stone Tables
Jack Sparrow in Lockup
Secure a Big Ship!
The Last Stone Tablet
Starving Pirates Can't Wait
What Was Stolen?
Legendary Pirate's Treasure
Save Jack Sparrow!
Get the Pirate Flag Back!
Lucky Treasure Map Discovery
Defeat the Sacbrous Ghosts
Disney Characters
Edit
3D Models
Edit
Screenshots
Edit
Ad blocker interference detected!
Wikia is a free-to-use site that makes money from advertising. We have a modified experience for viewers using ad blockers

Wikia is not accessible if you've made further modifications. Remove the custom ad blocker rule(s) and the page will load as expected.